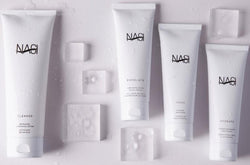 Skin Care Set (4 products)
This set contains four products
-Botanical Cleansing lotion (240ml) A mild, foaming cleanser derived from coconut and sugar beet.
-Hydrating Mango Face Cream (120ml) A daily hydrating cream containing the moisturizing properties of hyaluronic acid.
-Mineral Mud Mask (120ml) A mixture of incredible  pure arctic mineral mud, help maintain the skin firm and soft.
-Mint Exfoliating Face Scrub (120ml) A gentle face polish with ingredients derived from sugar, for a mild and deep skin cleanse.